Is your ride due for an oil change? You can get the service you need here at Peacock Hyundai Brunswick, your dealer serving Brunswick, Dock Junction, and Saint Simons Island. There's no better place to have an oil change near you performed.
Our technicians will have your car ready for the roads in no time, with the oil your engine needs to stay at the top of its game. When you're ready for oil service, just make an appointment with our service center.
Signs Your Car needs an Oil Change
Top-Quality Oil Service with Us
Why choose us for your next oil change? For one thing, our service center is staffed by factory-trained and fully certified technicians. They have experience working with all sorts of makes and models, so you'll feel confident trusting them with your car.
In addition to changing your engine oil, they'll replace your oil filter to keep your oil cleaner, longer. This service should be performed every time you have your oil changed. No matter what kind of oil you use-conventional or synthetic-our team will have your oil service performed quickly and efficiently.
The Importance of Oil Changes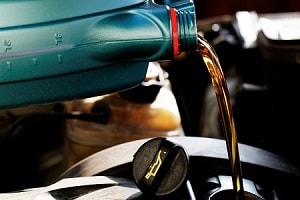 Oil changes are one service item you won't want to neglect. Oil performs one of the most essential tasks in your engine: It lubricates the moving metal parts, so they can work in unison without grinding against each other, producing friction, and overheating your engine.
As time goes on, your oil wears down and becomes less effective at its job. Without fresh oil, you may be dealing with an unsafe driving situation and risking costly engine trouble down the road. With routine oil changes, you can keep your car performing at its best for a long time to come.
Schedule an Oil Change near Me
Has it been a while since your last oil change? Typically, you should have oil changes every 6,000 miles or 6 months. If you're due for oil service, give us a call or feel free to make an appointment at the Peacock Hyundai Brunswick Service Center.
Whether you're coming from Dock Junction, Saint Simons Island, or right here in Brunswick, we can have your car in and out before you know it. We look forward to helping you with your oil change near you!