If you're looking for your next car, you'll soon come to see there are many vehicles available on the market today. At Peacock Hyundai Brunswick, it's our goal to help you throughout the car-buying process, so finding that next car is easier. It'll take some time and research, but making the right decision is important.
We've created these car comparisons for Brunswick, Dock Junction, and Saint Simons Island shoppers. Come to our dealership armed with facts and knowledge about Hyundai models and many other vehicles, too.
Hyundai Santa Fe vs Kia Sorento
Hyundai Sonata vs Honda Accord
Why Reading a Car Comparison Helps
There are various resources to turn to when doing vehicle research, whether it's a magazine, website, or even the vehicle brochure itself. We take the information and combine it in an easy-to-read format. We want to make sure you have the necessary items to make an educated decision.
Learn about the different Hyundai models here, including the Sonata, Tucson, Santa Fe, and all-new Kona. You might even learn a thing or two about a new feature! Once you've finished reading, experience the Hyundai model you're interested in by scheduling a test drive with our sales experts.
What You'll Find in a Comparison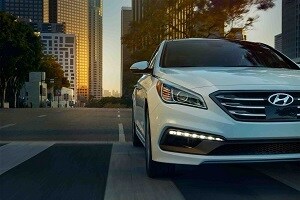 In these comparisons, a Hyundai will be compared against another manufacturer's closest competitor. We'll discuss the two cars in an open format so you can make decisions about the features and information important to you. There are also times when we may compare Hyundai models to give you a better idea of the similarities and differences between the two.
When reading a comparison, expect to find plenty of information about the performance of the two vehicles, amenities inside the cabin, cargo space, seating, and safety features. These are just a few of the topics we'll talk about. Read a comparison to become a confident car buyer.
Visit Our Hyundai Dealership
Take a trip to Peacock Hyundai Brunswick today. Thanks to our car comparisons, we're confident you'll be a more informed driver. Brunswick, Dock Junction, and Saint Simons Island car buyers can learn more about cars online or visit our dealership to take a test drive! We look forward to seeing you at our showroom.